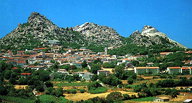 Aggius
is one of the antichi centers of the Gallura, to 500 mt above sea level. It has davanti the solid poderoso of the Limbara and, to the shoulders, un' articulated mount crown that render it characteristic and it confers it an only panorama. Heaps graniti to us and tondeggianti hills confer the dominant features to the landscape of its territory. L' original Flat of the Large ones It is known, become in tourist era Goes them of the Moon. Other characteristic of the aggese landscape is the presence of the "
Stazzi
". They are these characteristic casolari of campaign with annexed stables and ovili.

L' economy
L' economy of Aggius rests on the agricultural-pastorale field, sull' industrial handicraft, on the services, the terziario and sull' handicraft.
A good number of women finds occupation in the handicraft webbing of the carpets. A permanent extension in the Pavilion dell'
ISOLA
and in
MUSEUM ETNOGRAFICO
, besides those private ones, in the single laboratories, and un' anniversary during l' organized summer from the
PRO-LOCO
they allow to sell some